Luxury Living opens its first showroom in New York City.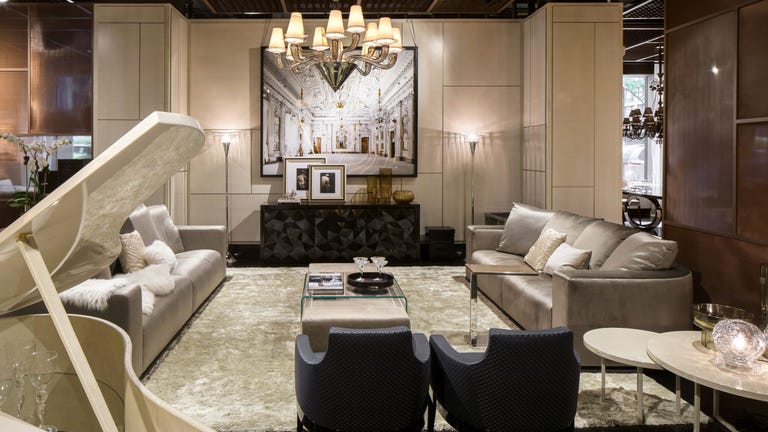 Luxury Living Group, the Italian lifestyle company that produces and distributes furniture collections for Fendi Casa, Kenzo Maison, Bentley Home, as well as its own signature line Heritage and others has found a new home in New York City's Midtown East. The showroom held its grand-opening party last week.
Spanning two floors, the 11,000-square-foot showroom offers everything from decorative lighting, sofas, storage units, mirrors, to bed linens, kitchen counters, and pianos. The lower level includes a wall of home accessories, featuring items such as the Fendi Casa Lapin Rex pillow in a number of colors- one standout being an intensely hued Fendi-esque yellow. Other focal points of the showroom include the mirror-like Regina Bronzed Glass Coffee Tables from Fendi and Heritage's Orient Express Suitcase Cabinet featuring faux mini suitcases that pull out instead of drawers.
The star of Luxury Living's New York location is clearly Fendi Casa. With over 300 models, all of which are completely customizable in color, material and stitching, Fendi fills sizable portion of the showroom. "We can really customize anything," said Raffaella Vignatelli, U.S. President of Fendi Casa, "From the size to the color to the set-up in your home. The customers want something unique and luxurious."
For now, Fendi Casa and Kitchen, Bentley Home, and Heritage Collection are the only lines included in the New York based showroom, but the company plans to expand by adding more luxury brands in the near future. Luxury Living New York, located at 153 Madison Avenue, is the brand's third location in the U.S.
Written By: Kristen Bateman