Judith Toensing didn't just teach her students, she inspired them. A sixth-grade teacher from Yuma, Arizona, Toensing made a strong impact on one of her students 21 years ago. At the end of the school year in 1997, Mrs. Toensing, wrote a note on the student's report card: "It has been a joy to have you in class. Keep up the good work! Invite me to your Harvard graduation!." This week, the student, Christin Gilmer graduated from Harvard as a doctor of public health.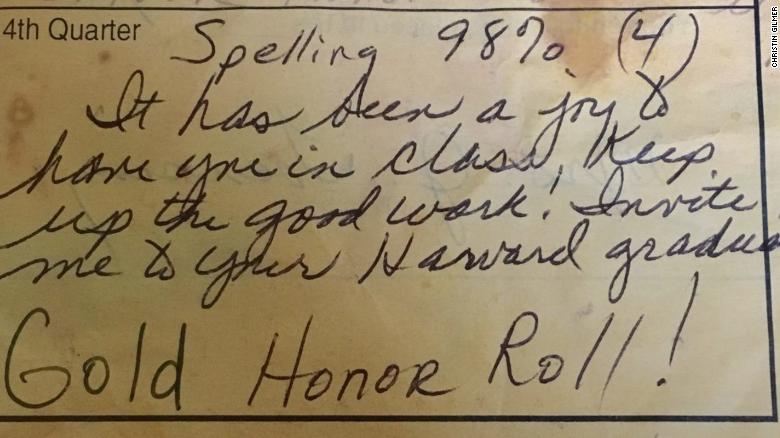 Mrs. Toensing wrote a note on this 12-year-old's report card back in 1997.
 Gilmer who is now 33, was only 12 at the time, but she kept the message all these years.
"It meant a lot to me to know that outside my mom, someone who knew me so intimately believed in my dreams and my ability to accomplish them," Gilmer told CNN. Gilmer, who wrote a 
thank you note
 prior to her graduation, said Toensing was the first person to encourage her in the journey of studying public health.
"Ms. Judy Toensing, taught me about current events, global health, and human rights. She was the first person who passionately conveyed the plight of people living with HIV/AIDS to me," the letter said.
This letter quickly grabbed the attention of school administrators, who decided to honor Toensing by inviting her to the 2018 Harvard T.H. Chan School of Public Health's convocation, at no cost to her.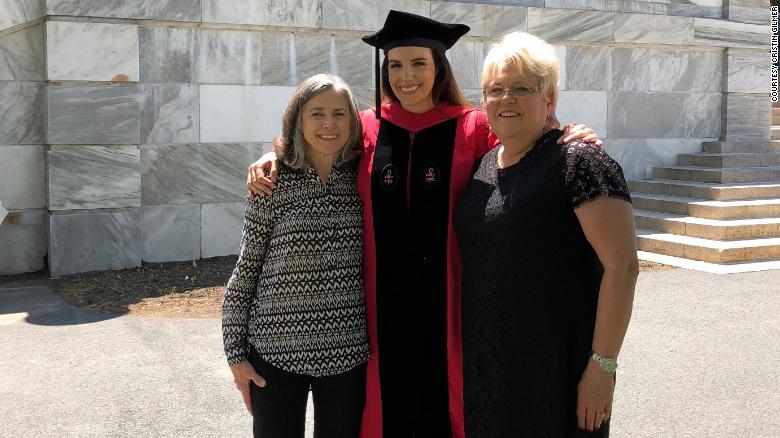 Mrs. Toensing and Gilmer's mom posed for a photo after the ceremony.
Dean Michelle Williams thanked Toensing — and all public school teachers — for the "immeasurably important" work they do.
"You don't just teach young people. You inspire them, and you propel them along a path of fulfillment and service to others. Your work is what makes our work possible," Dean Williams said.
This came to a surprise to Toensing, who felt "shocked, flabbergasted, humbled" when she received the invitation from Harvard, which was personally delivered to her by Gilmer.
"I have high expectations of all my students, so to hear that Christin had achieved this goal did not surprise me in the least," Toensing told CNN. "I feel honored that Harvard chose to tell Christin's story, her journey, and that I was a small part of that journey," she added.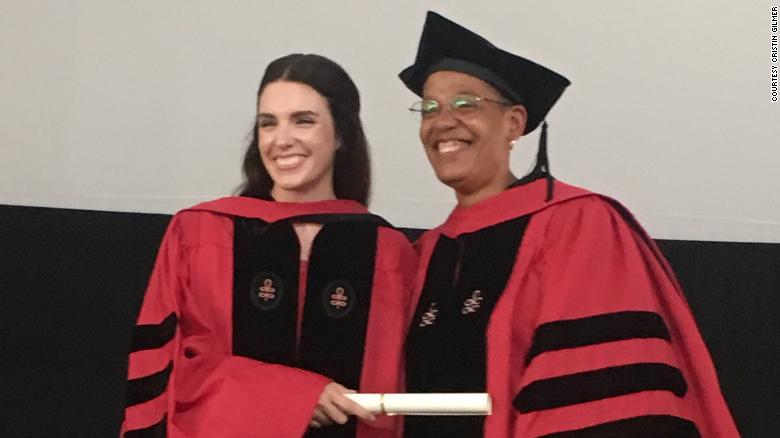 Christin Gilmer received her doctor of public health degree on May 23, 2018.
Gilmer who got her master's degree in public health at Columbia University, says that Toensing always encouraged her students to think of ways to help others.
"She lit a fire in me that helping people is a powerful tool, and through education, you can better serve populations in need. I will never forget her passion for others," Gilmer told CNN. As a student in Toensing's class, she and others wrote a 100-page advertisement, interviewed the mayor and envisioned how recycling could work in their town 15 years before it actually happened, and helping others is something she plans to focus on.
"I would love return to southern Arizona to work in health, politics, and community development," Gilmer said. "I wanted to learn from the best institutions in the world so that I could bring back the knowledge and skills I have obtained and share them with the communities from which I came." Toensing, who says this experience revitalized and energized her to become a better teacher for her students, praised all the hard work Gilmer has done and believes this is just the beginning of a great future.
"She has many more miles to go, I know with her tenacity, her dedication, and her passion for helping humanity, she will be highly successful and that we will all be the better for knowing her," Toensing said.
Toensing, who taught Gilmer all her sixth-grade subjects, now teaches sixth- and eighth-grade Social Studies.
Written By: Andrea Diaz, CNN
CNN's Carma Hassen contributed to this report