Ronda Rousey Becomes the First Woman Inducted Into the UFC Hall of Fame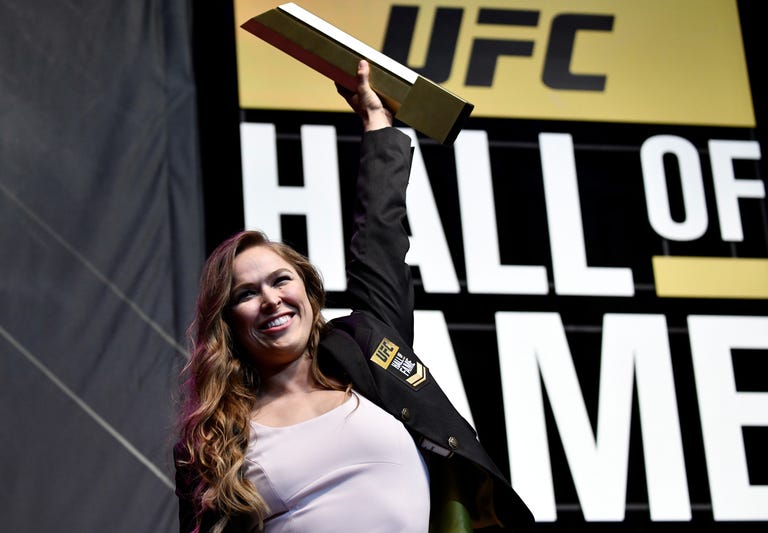 GETTY IMAGES
BRANDON MAGNUS/ZUFFA LLC
"Never say 'never,'" Ronda Rousey wrote in a celebratory Instagram post.
The former bantamweight champion made history on Thursday as the first woman inducted into the UFC Hall of Fame.
Rousey's career is a collection of firsts, really. In 2008, she became the first American woman to win an Olympic medal in judo, taking home the bronze at the Beijing Games. In 2012, she became the first female fighter to sign with the UFC, and shortly after became the company's first female champion. She went on to hold the bantamweight belt from 2012 to 2015. In January, Rousey signed a full-time contract with WWE.
While introducing Rousey, UFC President Dana White, who once said women would never fight in the UFC, explained how Rousey helped evolve his way of thinking.
"In my almost 18 years as UFC president, I've learned many valuable lessons," White said, according to ESPN. "And the one that comes to mind tonight is never say never, especially when you're talking to UFC. In my defense, when I famously said women would never fight in the UFC, I had never met Ronda Rousey. I had never met the woman who would change everything. She started by changing my mind and she ended up changing the world."
In a follow-up Instagram post, Rousey thanked her many supporters.
"I had so many more to thank than I could have used the time I had the stage for," she wrote. "Everyone I know personally, I can thank in person … last night was for YOU. Thank YOU for watching and letting the adventures of this Venetian judoka with a bad reputation change the world."
Written By:  Jordyn Taylor