'In our common spaces lie uncommon opportunities'
In her early years as president of Harvard University, Drew Faust began to imagine how a more inclusive Harvard — a more connected Harvard — might be developed. Each individual School was distinct and best in class. But how could the University as a collective benefit from the talents and specialties of each individual School? How could the whole be greater than the sum of its diverse and distinctive parts? The answer, it seemed to Faust, was both simple and visionary.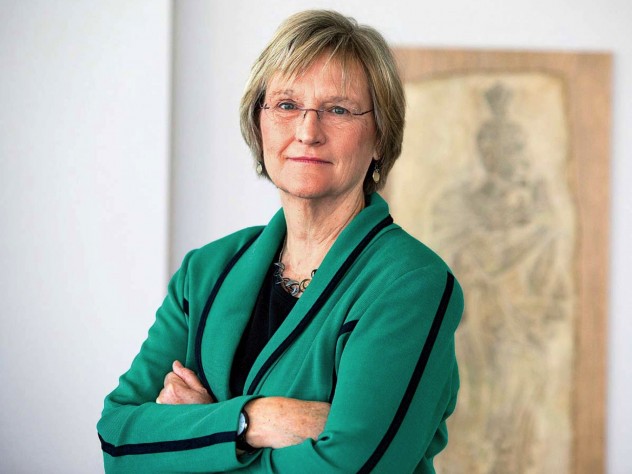 The University, she said, should create new spaces across campus in order to generate greater discussion, collaboration, partnership, learning, and sense of belonging.  These spaces could allow the many social, academic, and cultural communities of the University to come together across disciplines to create exciting, meaningful, and profound work.
"We learn again and again that spaces shape our intellectual and social interactions with each other and with the many visitors who come to Harvard and Cambridge to share in the life of this University. … It's important that we take a focused look at our historic spaces … to ensure that we are taking full advantage of the ways in which our physical environment can support the kinds of engagement that enhance and sustain the vitality of the Harvard community," Faust wrote in 2008, when she convened the Committee on Common Spaces at Harvard.
It was chaired by Lizabeth Cohen, dean of the Radcliffe Institute for Advanced Study and Howard Mumford Jones Professor of American Studies, and Mohsen Mostafavi, dean of the Graduate School of Design and the Alexander and Victoria Wiley Professor of Design, who spent a year listening and gathering thoughts and suggestions from students, faculty, and staff — 18 focus groups, including more than 150 individuals and more than 6,000 survey respondents.
The message was "loud, clear and strikingly consistent": Harvard was short of common spaces. The University community longed for spaces where students could work informally in groups; where faculty, students, and staff from all Schools and disciplines could come together and cross paths. They wanted spaces that "nourished a sense of place." Spaces for them to unwind, to study, to gather and celebrate with friends.
"As a university committed to interdisciplinary collaboration, we need spaces that can serve as the intellectual and academic crossroads for the campus, inviting the real-time and in-person transactions that support daring and border-crossing work," the committee said.
Ten years later many of the committee's early recommendations have been achieved with a series of renovated and new spaces, and by programming and experiments with the goal of enhancing both community and that desired core sense of place.
From the scattering of brightly colored chairs throughout the Yard to the activation of outdoor spaces like the lively plaza outside the Science Center to the Richard A. and Susan F. Smith Campus Center opening in the fall, Faust's Common Spaces initiative is thriving.
"Early in Drew Faust's presidency, in January 2008, she asked Mohsen and me to co-chair an ambitious effort to create more spaces on campus where students, faculty, and staff could interact," said Cohen. "Now, a decade later, Drew is nearing the end of her presidency and I am delighted that we can look forward next fall to opening the final stage of our ambitious plans for more common spaces at Harvard: a much-needed campus center that will encourage greater contact and communication across our community's diverse constituencies and schools. I anticipate that the Smith Center will have a transformative impact on our centuries-old Harvard campus."
"Throughout her presidency, Drew Faust has encouraged all of us to think and act as one organic Harvard community and to cross disciplinary boundaries in the pursuit of new knowledge," said Mostafavi. "Fundamental to such forms of collaboration is the spatial dimension that frames and shapes new opportunities for reimagining our physical environment. In this regard, the Smith Campus Center is both a manifestation of Drew's vision of One Harvard and the site of innumerable productive encounters, dialogues, and ideas that are yet to come."
When the initiative began to pick up steam, Faust made it formal, creating the Common Spaces Program in 2013. It hired its first director in 2016, and the group has continued to thoughtfully identify, develop, program, and maintain spaces across the University.
"The Common Spaces program is fortunate in that it has been guided by the visionary work of deans Cohen and Mostafavi and the Committee on Common Spaces developed nearly 10 years ago. Today, we're building upon that foundation," said Julie Crites, the program's director, "working across the campus to foster welcoming and inclusive campus spaces. We are particularly excited by the countless possibilities for the University community within the new Richard A. and Susan F. Smith Campus Center, which will be the first space of its kind at Harvard."
As planning began in earnest for the center, Cohen and Mostafavi were joined by Danoff Dean of Harvard College Rakesh Khurana. Together they joined forces to explore how a large, centrally located campus community space could continue to deliver on the promise and potential of University common spaces.
"In addition to the College's providing resources to support students' social opportunities on campus, we had an opportunity to build an amazing and central space to support their connecting with peers," said Khurana. "Our focus is on identifying fun and inclusive social venues for our undergraduates — in the Houses, the Yard, and in our plazas. The Smith Center will be a unique space for our students, and I think it will be a gravitational force for many students and student organizations. I am looking forward to its opening."
When it's complete, the center will be a striking embodiment of Faust's original vision: a crossroads for members of the community to gather in a space that belongs to all the Harvard community. A range of comfortable and relaxing gathering spaces and amenities including eight different local and unique food venues, Wi-Fi, and spaces to plug in or unplug, will attract faculty, students, staff, and community members to an abundant and thriving indoor University common space. The first and second floors of the building will include the Moise Y. Safra Welcome Pavilion and Plaza along Massachusetts Avenue, with space for the Harvard community and visitors to mingle, buy tickets to University events, join tours of campus, and take in the views onto Harvard Square with a coffee from locally owned Pavement Coffee. Interactive screens will highlight upcoming events across the University's Schools, museums, libraries, theaters, institutes, and centers, so that both the Harvard community and campus visitors can see what is happening on or coming to campus.
The building and adjoining plazas will be home to double the number of chess tables as were available before, half of them indoors for year-round play. Members of both the Harvard and Cambridge communities provided input into the design of the plaza overlooking Massachusetts Avenue and of the other areas around the building's exterior.
The first floor will strengthen the historical arcade space designed by the building's original architect and Dean of the Graduate School of Design from 1953 to 1969 Josep Lluís Sert, replete with six large-scale 18-foot-tall vertical gardens and home to three distinct food venues (Bon Me, Swiss Bakers, and Whole Heart Provisions), along with an enclosed vitrine garden featuring seasonal plantings surrounded by benches and cafe seating. With its significantly increased exposure to nature and natural light, the space promotes healthy and more sustainable lifestyles.
The main floor of the Campus Center is complete with a hallmark new space, Harvard Commons, by day a large community living room home to lunchtime concerts and conversation and by evening transformed into a program space that will feature talks, lectures, and performances by Harvard students, faculty, and staff. The center also will house flexible meeting and multipurpose spaces for students, faculty, and staff meetings, events, and University activities. The Undergraduate and Graduate councils will have offices in the center.
"I am unbelievably excited for the opening of the Smith Campus Center in the fall, and the opportunities it presents for all students. The Undergraduate Council got the opportunity to tour the space recently, and I was blown away by the thought put in, especially from the students who had dreamed of this several years ago. … I really believe the center will have a huge positive effect on campus," said Catherine Zhang '19, Undergraduate Council president.
"After seeing the sketches and taking part in city zoning board meetings, it was exciting and inspiring to finally see the new Smith Campus Center renovations," said Kevin Tian, Graduate Council president. "It is refreshing to imagine, in this place uniquely made for the Harvard community, how students could come together to make spaces for inclusion and belonging. The Harvard Graduate Council hopes to use some of this space as a cornerstone for University-wide events."
The 10th (and top) floor will offer sweeping views of the Charles River, the Allston campus, and Harvard Yard. It will feature another food venue, and additional common lounges for Harvard affiliates and their guests, in addition to a conference and private event space for up to 400 people overlooking Massachusetts Avenue with a beautiful view across historic Harvard Yard.
In Faust's recent letter to the Harvard community concerning the findings of the Report of the Task Force on Inclusion and Belonging, she wrote that the new Campus Center will offer a unique opportunity "to embody a number of the task force recommendations in its identity from the outset." Convening spaces in the Smith Campus Center have been designated as locations for various programs related to issues of inclusion and belonging, including sessions on "civil disagreement" to be convened by Professor Danielle Allen, task force co-chair and director of the Edmond J. Safra Center for Ethics.  The Smith Center will also serve as an information hub that will help students, faculty, and staff experience different areas of campus.
"The Smith Campus Center is going to be a brilliant centerpiece for our campus and an exciting crossroads for our entire community. I am looking forward to seeing the finished spaces when the ribbon is cut this fall. So many people have worked to make the project possible, and I am especially grateful to Richard Smith and the late Susan Smith for their vision and generosity. They understood that they were helping to create a place of extraordinary possibility for students, faculty, and staff — and we will see it come to life in just a few short months," said Faust.
"While Harvard is to some degree a set of productive discrete domains, its communal characteristics, including shared purposes, cross-disciplinary endeavors, and common physical spaces make it one university," the Committee on Common Spaces report said 10 years ago. "By developing its common spaces, Harvard will lose none of its traditional character. It will become more essentially itself."
As her tenure as Harvard's 28th president ends, Faust leaves a campus more connected than ever. And with the proliferation of so many common spaces, more possibilities for even greater connections.
Written By: Brigid O'Rourke