7 Brands That Specialize in Custom Dress Shirts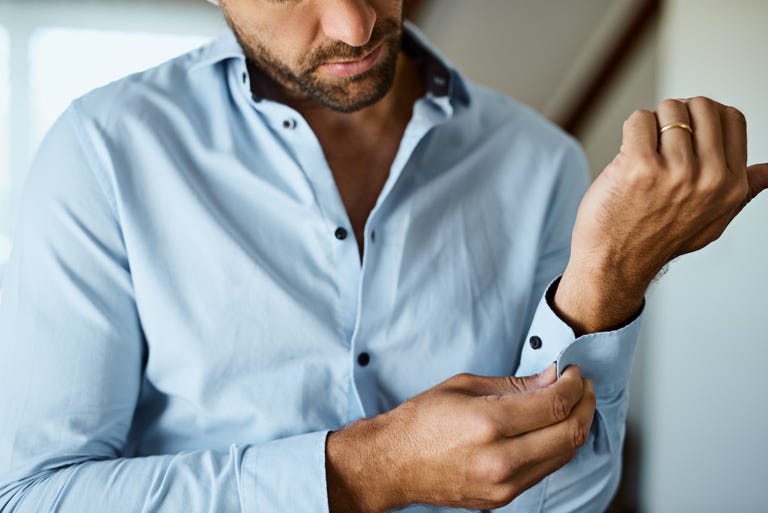 This one is too long, that one is too short. The collar on this one is too loose and on that one the cuffs are too tight.
Unless you're perfectly proportioned in every way, finding a button-down dress shirt off the rack can be an unending exercise in give and take-in at a tailor. Life could be so much easier if your clothes were made just for you.
"Anything that is custom made for you will be built specific to your measurements—something rack options just can't compete with. Especially for muscular men, with bigger necks, chests, and biceps, going the custom route is best," celebrity stylist Alexander Allen says. Allen has worked on several major film projects, including the upcoming Al Pacino film Paterno.
"When opting for custom shirting, which can be pricey, look for a brand that has a solid reputation, has rave reviews, and/or a vendor that fully stands behind their brand with a satisfaction guarantee or one that offers to replace or redo your order at no additional cost," Allen advises.
Tailoring is no longer just for the rich and famous. As time goes on, more and more companies are offering custom-made shirting, often times at a price similar to what you'd pay for a button-down shirt at your favorite department store. And you can customize more than just the fit, including options for everything from button details to monogramming. Here's where to go to find your perfect fit.
Have a professional tailor take your measurements or send the company your best-fitting shirt and they'll pull your sizes for you. From there, you can use the site create your dream button-down using cotton or polyester fabrics in a wide array of colors and prints.
Price: Starting at $19.95 for new customers.
Answer some online questions about your size and style and the site generates your ideal fit. Shirts are custom made, delivered in two weeks, and come with a "perfect fit" guarantee (meaning, if you don't like it, they'll remake it for free). You can also design every detail of your dream shirt — including choosing your own buttons and adding a monogram.
Price: Starts at $95.
The site gives you a video tutorial on how to take your measurements, and the Concierge Team will double check with you via email if anything seems off. They will also cover the cost of alterations if you're not 100 percent in love with your look. If you'd prefer to shop in person, there's a New York City showroom where you can make an appointment with one of the company's expert stylists.
Price: Starts at $99.
Register online and one of the company's personal stylists will come to you to help create your custom fit, answer any of your style questions, and let you browse Italian fabric samples in person. Your stylist will also hand deliver your order and each piece comes with a 100 percent fit guarantee.
Price: Shirts start at $105.
Your favorite destination for off-the-rack suiting also has a made-to-measure service. Visit a brick-and-mortar shop and head to the on-site tailor, who will then walk you through different fit options — including the Executive, designed for larger, more muscular upper-bodies — and help you customize your collar, cuffs, and embroidery. You can even find tuxedo shirt options.
Price: Starts at $125.
The long-standing menswear company offers a made-to-measure service for both suits and shirting. Stop in at one of their Wardrobe Events and tailors will guide you through more than 1,000 fabric options and help you customize your fit as well as the details like pocket styles, cuffs, buttons, and more. Then your shirt will be made in one of the company's factories.
Price: Starts at $126.
The luxury suit maker also offers Su Misura, a made-to-measure service for all your wardrobe needs. Book an appointment at your local boutique and choose from a global array of luxury fabrics, and decide your fit. Finished pieces are done by hand, and each shirt features the buyer's name embroidered on the label.
Price: Starts at $395.
Written By: Jill Sieracki