10 of the world's best hotel spas from Switzerland to Indonesia
In addition to a great restaurant and a classic bar, one of the most effective lures a hotel can have is a fantastic spa.
The quality of a hotel's spa isn't necessarily measured by square footage or even luxury, but rather in the quiet, practiced skill of its therapists, the variety and caliber of its treatments and the elevated state of being in which guests emerge.
Relax, detox, indulge. These 10 hotel spas around the world deliver all that when you stay:
1. Thermal Spa, Grand Resort Bad Ragaz
(Bad Ragaz, Switzerland)
The views from the 267-room Grand Resort Bad Ragaz are worth the visit alone. It's situated at the base of Pizol Mountain, a few hundred feet from Lake Constance, with the Alps in the distance.
But the real draw is its cutting edge-meets-holistic Wellbeing and Thermal Spa, the leading medical spa in Switzerland.
Its treatments cover everything from detox and stress relief to mobility issues and neuromuscular disorders. (There's a staff of 70 doctors and specialists onsite.) Its 12 spa suites offer floor-to-ceiling windows, personal saunas, color-therapy baths and bathwater from nearby thermal springs. The spa is also home to the world's first Swarovski glass-covered steam room.
2. Wellness Spa at COMO Shambhala Estate
(Bali, Indonesia)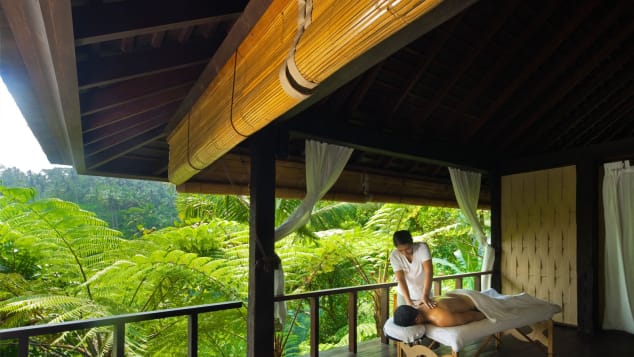 In Bali, you can detox at your own pace. COMO Shambhala Estate Located in Begawan Village on the outskirts of Ubud, the Wellness Spa's tranquil river valley setting is as healing as the treatments themselves. Treatments are rooted deeply in Ayurvedic practices and holistic well being. Before treatment, guests consult with a doctor to determine individual needs and develop customized therapies. Offerings include traditional Balinese healing, hydrotherapy and an extensive range of massage therapies. Long-term wellness programs — five days or more — are available, and favored by celebrities and elite athletes. Post-treatment, guests can choose from more than 20 kinds of antioxidant-packed juices, made on site at Glow restaurant, to further aid detoxification.
3. The Spa at Canyon Ranch
(Tucson, Arizona)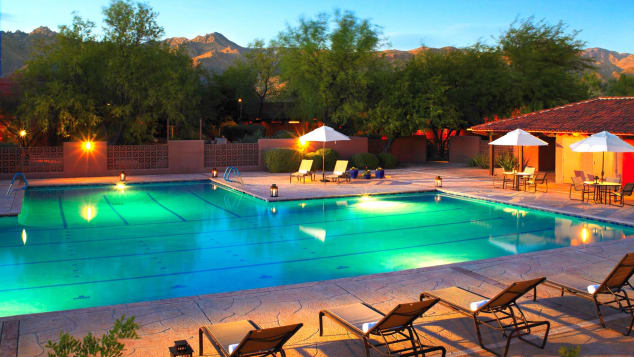 There's a strong focus on fitness at The Spa at Canyon Ranch. Canyon Ranch There's no spa in the United States quite like this 80,000-square-foot behemoth, located within a 150-acre ranch in the scenic foothills of the Santa Catalina Mountains. There's a strong focus on fitness here. Upon arrival, guests are encouraged to meet with a medical professional to develop a customized fitness program to complement treatments. The spa has four swimming pools, including one with underwater treadmills. It also famously offers a sleep lab, where guests' sleep patterns are tracked and analyzed with sensors.
4. Thalasso del Forte at Forte Village Resort
(Sardinia, Italy)
With a thalassotherapy center and an Ayurvedic "park" focused on traditional Indian healing methods, the award-winning Thalasso del Forte is more than a hotel spa — it's a full-blown temple of wellness. It offers 20 treatment rooms and 40 therapists, and is centered on five saline-dense pools ranging from 20-38 degrees Celsius. There's a cutting-edge Selam, or "water gym," said to target everything from osteoporosis to high blood pressure. Post-treatment, guests are encouraged to drink purifying infusions blended by a herbalist at the on-site health bar.
5. Remede Spa at St. Regis Bahia Beach Resort
(Rio Grande, Puerto Rico)
Editor's note: The St. Regis Bahia Beach Resort is closed for repairs after the 2017 hurricane season. As of mid-May 2018, it was scheduled to reopen in late October 2018, according to its website.
The Remede Spa at the St. Regis Bahia Beach is a fairly new player in the game (it opened in 2010), but its flawless service and beachfront location ranks it with the best of them. Performed in thatched-roof cabanas near the ocean (upon request), treatments are designed to individual needs using ingredients indigenous to the nearby El Yunque Rainforest. Standout treatments include the signature Queen Loiza wrap, which incorporates 24-karat gold dust to promote radiance and boost collagen production, and a deep-tissue massage featuring local Encanto rum. The spa also offers private yoga, pilates and meditation sessions.
6. Spa at Chiva Som International Health Resort
(Hua Hin, Thailand)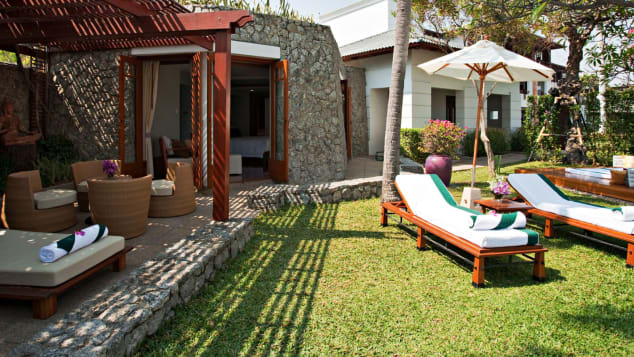 Chiva Som Spa has been open more than 20 years. Chiva Som International Health Resort This wellness resort on the Gulf of Thailand was founded in 1995, but it continues to be ahead of the game. The spa has added new fitness programs to its formidable list of offerings, and introduced a cutting-edge training chamber that's said to increase the body's ability to burn calories. In addition to having over 200 spa treatments to choose from, there's a staff of doctors, nutritionists, acupuncturists, physiotherapists and naturopaths on site. The spa is renowned for its in-house Niranlada Medi-Spa, a separate spa that specializes in aesthetic treatments like microdermabrasion and noninvasive laser procedures.
7. Aman Spa at The Connaught
(London)
This urban wellness retreat — the first Aman Spa built outside an Aman resort — proves that even a bustling city hotel can be home to an award-winning spa. Locals and tourists compete for space in its sleek, ionized pool and a massage in one of the five low-lit treatment rooms. Treatments are as stylish as the spa. Therapists pair diverse techniques from across the world with organic ingredients like sage, cedar, lemongrass and clay based on your Ayurvedic "dosha" (mental and physical makeup). Being a popular business hotel, there's a separate spa menu for fatigued travelers, aimed at reducing jet lag and stimulating circulation.
8. Spa at Four Seasons Resort Bora Bora
(French Polynesia)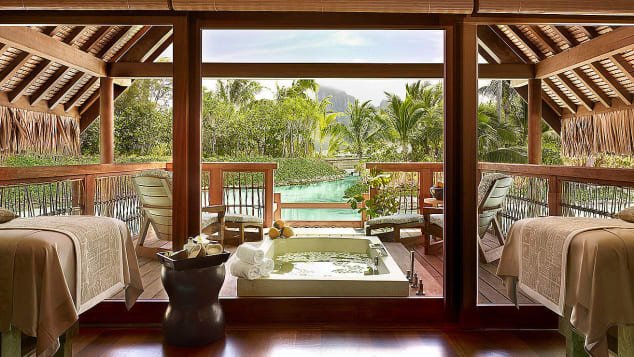 The spa's Kahaia suite has an outdoor terrace, soaking bath and views over Mount Otemanu. Four Seasons Resort Bora Bora. Built on the edge of a turquoise lagoon and flanked by tropical groves, the spa at Four Seasons Bora Bora couldn't be more perfectly poised. But it doesn't rely on looks alone to impress — its treatments are as luxurious as its surroundings. Scrubs are infused with Tahitian black pearls, masks are made from organic algae harvested from the ocean's purest waters and therapists are internationally trained and Swiss efficient. While most treatments can be performed in guest bungalows, the spa's spacious Kahaia suite, with its outdoor terrace, soaking bath and views over Mount Otemanu, is hard to beat. It even has space for kids — those aged 13-17 can choose from their own spa menu.
9. Spa at Rancho La Puerta
(Tecate, Mexico)
Located at the base of Mount Kuchumaa and founded in 1940, the spa at Rancho La Puerta isn't just the oldest spa in North America — it remains one of the best. In large part, that can be attributed to the passion and vision of founder Deborah Szekely, who born in 1922 is still a living advertisement of its effectiveness. Here, treatments are more classic than cutting-edge — aromatherapy massages and herbal wraps rather than oxygen facials. Guests like it that way — about half at any given time are repeat customers, according to the spa. In addition to traditional treatments, the spa also offers chiropractic services, craniosacral therapy, acupuncture and meditation classes.
10. Spa at The Chedi Andermatt
(Andermatt, Switzerland)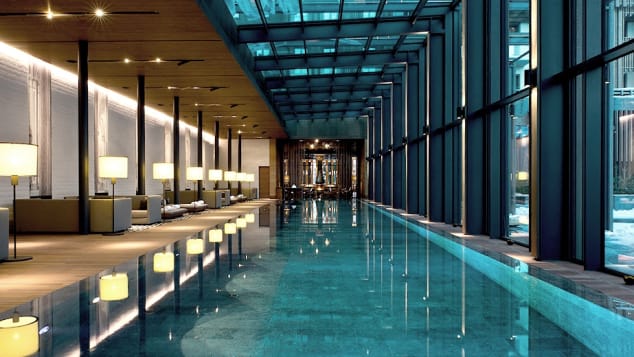 The Chedi Andermatt: The views outside are even better. The Chedi Andermatt. Aesthetically, this spa newcomer has upped the ante with slick modernism, minimalist decor and soaring ceilings. Looks aside, it has 10 treatment rooms, a 100-foot indoor pool with a glass roof and a state of the art hydrotherapy zone with Finnish saunas, hot and cold plunge pools and salt steam baths. Its Asian-inspired treatments include a purifying ila amethyst wrap infused with jasmine and pearls, paired with a mini-crystal facial massage, said to stimulate the lymphatic system. The spa's ultimate indulgence? Floor-to-ceiling windows that allow guests to bask in the surrounding alpine views while being taken care of.
Written By: Krisanne Fordham