The Best Leather Jackets In Every Price Range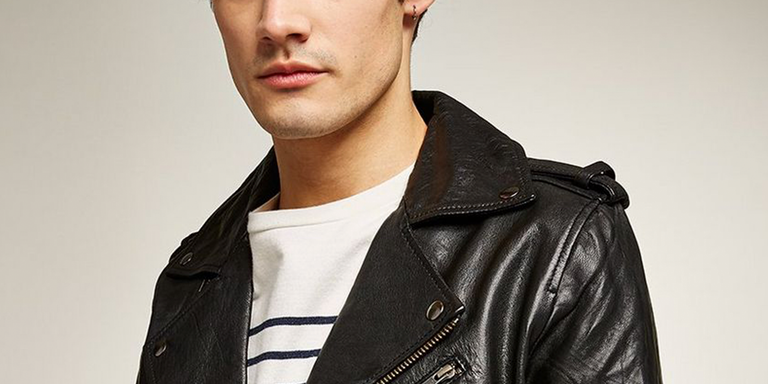 A leather jacket is an investment. Seriously
Leather jackets can run the gamut from expensive to thrify, from shiny and shiny to matte and oversized. No matter what, though, there are options, and hopefully whichever one you choose will last for years.
The right leather jacket for you will be dependable, reliable, and tailored perfectly. Ideally, you can throw it over jeans and a t-shirt and look effortlessly cool and relaxed. But if you're going to drop some cash and decide on a jacket you'll wear often, where do you even begin to look?
These eight jackets are each different styles and different price ranges, so there's something for everyone. No matter which one you choose, though, you'll end up looking like a total badass.
Leather Jackets Under $300
Topman Oversize Leather Biker Jacket
An oversized leather jacket is perfect for layering, so if you're the kind of guy who piles on the clothes, this is ideal. This particular jacket from Topman is edgy, chic, and versatile, so it'll always work, no matter what you're layering underneath it.
Topman Leather Biker Jacket
Another Topman jacket, this one is more of a classic moto silhouette. It's got an iconic, vintage look and the tailoring is a bit more fitted.
Landing Navy G1 Flight Bomber Jacket
If you prefer a bomber, you have options. This particular leather bomber jacket is extra warm for chillier days and maintains an old time-inspired look for anyone who appreciates a good throwback.
Leather Jackets Under $500
Allsaints Carver Slim Fit Leather Jacket
Need something super soft and comfy? This is it. Exposed zippers keep the look from going a little too soft, maintaining the edge and chicness that are synonymous with leather.
Mackage Hooded Leather Jacket
Listen, you've got to be prepared. We get it. Need a hood just in case? Check. This Mackage jacket can and will take you anywhere, no matter rain or shine. You might never want to take it off.
Allsaints Cargo Biker Slim Fit Leather Jacket
This matte jacket is a bit more understated than the usual shiny black leather. If you prefer to keep your style a bit more muted and basic, this does exactly that in the very best way possible.
Leather Jackets Under $1,000
Schott NYC Cafe Racer Unlined Cowhide Leather Jacket
Like to stand out? Brown leather is still neutral enough to wear often, but it's not as typical as black. It's also still modern and cool, despite the unexpected color change.
Cole Haan Lamb Leather Jacket
And if you really want to shake things up, this lamb leather jacket is not only atypical in color, it's also a little bit different in the cut. It's asymmetrical, bright brown, and matte. Above all, though, it's still really, really cool.
Written By: Louis Baragona