15 Must-Do 2018 Holiday Events in NYC for Kids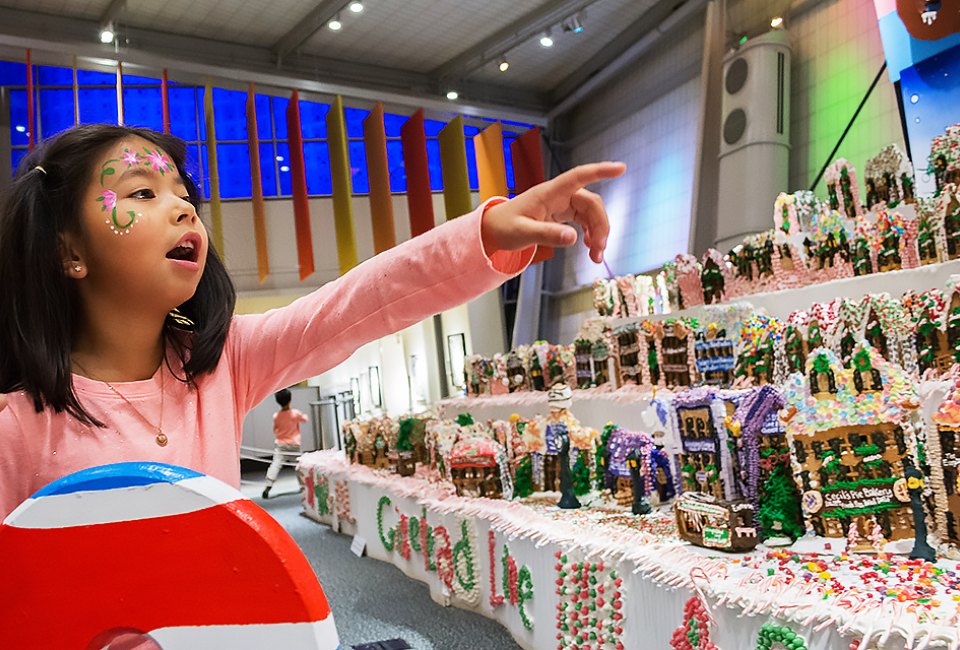 There may be a week of Kwanzaa, eight nights of Hanukkah, and 12 days of Christmas, but as the festive displays popping up all over town attest, the holiday season really lasts from early November through New Year's Eve. That's almost two months jam-packed with a certain Thanksgiving parade, tree and menorah lightings, train shows, department store windows, and Nutcrackers.
Of course, not all holiday activities are created equal. That's why we've rounded up the absolute best ways to get into the spirit of the season, regardless of what you celebrate. From splurge-worthy, once-in-a-lifetime experiences to annual favorites worth revisiting to a few fabulous FREE options, here are 15 super-outstanding events where you can give your kid the best gift of all: happy family memories.
If an event piques your interest, be sure to click through to our listing for all the details, including address, time, and pricing. And keep in mind: In NYC, really cool seasonal happenings often get booked up quickly. So buy your tickets ASAP, or, in the case of FREE events, arrive as early as possible to try to beat the crowds.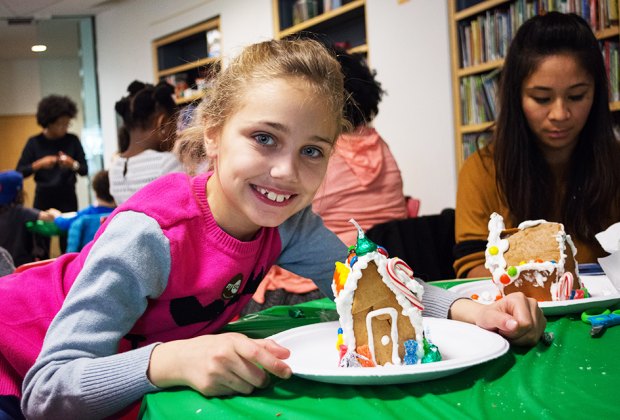 After seeing Gingerbread Lane create your own masterpiece at a gingerbread workshop at the New York Hall of Science. Photo courtesy of NYSCI
1. Gingerbread Lane at the New York Hall of Science — Corona Park, Queens
Saturday, November 10, 2018–Monday, January 21, 2019
The annual gingerbread extravaganza at the New York Hall of Science is a Guinness Book of World Records holder, and they're going for the title again this year. Stop by to ooh and aah at Chef John Lovitch's detailed, lovingly executed empire, and maybe jot down some design ideas to try to replicate at home.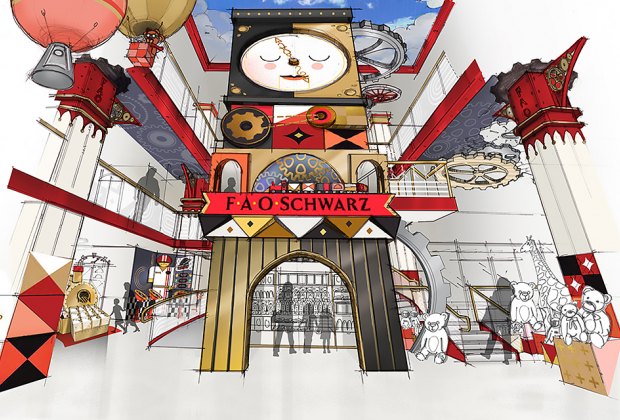 The new FAO Schwarz in Rockefeller Center will leave kids in awe! 
2. FAO Schwarz at Rockefeller Plaza — Midtown East
Opens Friday, November 16, 2018
It's ba-ack… and just in time for the holidays, too. The new store covers 20,000 square feet with a treasure trove of toys, stuffed animals, and the iconic dance-on piano. Brace yourself, and your wallet! Go to window shop, make wish lists, and dream. And be sure to get a photo with the life-sized toy soldiers guarding the doors.
RELATED: 9 Best Outdoor Ice Skating Rinks in NYC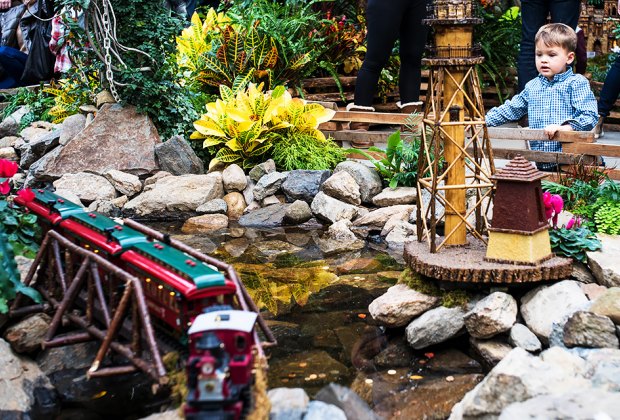 More than 25 model trains chug through an NYC landscape at the New York Botanical Garden Holiday Train Show. Photo courtesy of NYBG.
3. New York Botanical Garden Holiday Train Show— Bronx Park, the Bronx
Saturday, November 17, 2018–Monday, January 21, 2019
While there are other holiday train displays in and near NYC, none compare to the NYBG's annual show, which celebrates its 27th anniversary this year. More than 25 model trains (yes, including Thomas the Tank Engine) go whizzing by approximately 150 NYC landmarks meticulously made out of acorns, twigs, bark, berries, and leaves. This year's edition showcases lower Manhattan, shining a spotlight on Ellis Island and the Statue of Liberty and celebrating the birthplace of the city of New York. Afterward, kids can hit the Evergreen Express in the Everett Children's Adventure Garden to make train puppets, sing along to train songs, and march in musical parades. Beginning December 29, tots can see one of their favorite TV characters up close and personal in the All Aboard with Thomas & Friends stage show. Be sure to check the calendar before you go as there are special events throughout the season, including holiday movie screenings. Warning: Even though timed advance tickets are required, it gets super crowded. If at all possible, go early or late in the season on a weekday.
RELATED: Thanksgiving in NYC Guide: Parade, Restaurants, Volunteering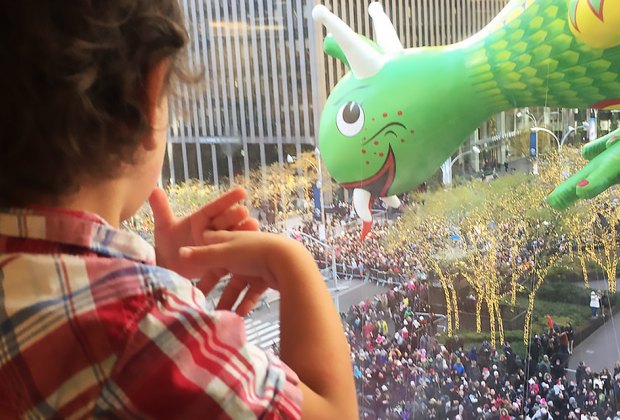 Catch the Macy's annual Thanksgiving Day Parade for an extra special holiday treat. Photo by Matthew Nighswander
4. Macy's Thanksgiving Day Parade & Balloon Inflation— Upper West Side to Midtown West
Balloon Inflation: Wednesday, November 21; Parade: Thursday, November 22 (Thanksgiving Day)
We definitely don't need to sell you on this world-famous NYC tradition, which turns 92 this year! The only thing that isn't family-friendly about this procession of pop-culture inspired floats and giant balloons is the fact that you need to arrive around 6am to stake out your spot. Unfortunately, there is no secret to snagging a good viewing location unless you're willing to splurge on a hotel room overlooking the route. There is, however, a great trick for beating the lines at the annual balloon inflation the night before: spend the day at the American Museum of Natural History! As for the parade itself, arrive early or watch from way in the back. You'll still see something. Or find a friend (or a friend of a friend) who lives on the route. Wherever you watch from, expect a thrilling lineup of celebrities, marching bands, colorful floats, kooky clowns, and massive balloons, from old favorites such as Hello Kitty and the Pillsbury Doughboy to new additions for 2018. FREE
5. Winterfest at the Brooklyn Museum — Prospect Heights, Brooklyn
Friday, November 23–Monday, December 31 (closed December 7, 14 and 21)
Want to walk through a giant snowglobe? Commune with the world's largest snowman? Slide down a giant inflatable slide dubbed "Snowzilla"? The Brooklyn Museum's new Winterfest promises all that and more, including a winter market, daily live performances, an enchanted tree maze, facetime with Mr. and Mrs. Santa, and a giant menorah. This is the first year for this holiday treat, but it sounds like a tradition in the making.
RELATED: Macy's Unveils Santaland Details for 2018 Holiday Season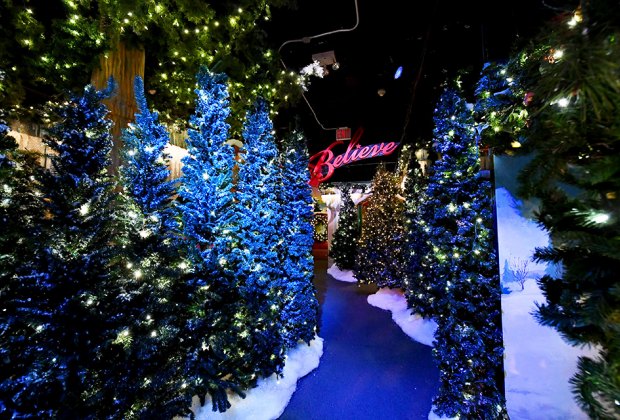 Macy's Santaland is a holiday tradition for tourists and natives alike. Photos by Mike Coppola
6. Santaland at Macy's Herald Square— Midtown West
Friday, November 23–Monday, December 24
Yes, there are lots of places to hang with Kris Kringle in the Big Apple. But for an immersive seasonal spectacle, you can't beat Macy's Santaland. The famed store mounts a 13,000-square-foot North Pole Christmas village complete with live elves, an enchanted forest featuring animatronic toys, and a train display, and at the end, you get to visit with the one true Santa. Visits with the big red guy are by reservation only, so be sure to go online to choose a time slot between 30 minutes and five days in advance of your visit. FREE unless you buy a photo package
7. Winter's Eve at Lincoln Square— Upper West Side
Monday, November 26
Skip the crazy and cramped Rockefeller Center tree lighting (which you can watch much more comfortably on TV) in favor of this illumination in Dante Park, which kicks off one of the best seasonal celebrations in Manhattan. From the Time Warner Center to 68th Street, enjoy tons of free entertainment and reasonably priced ($1-$4) food tastings from the area's many restaurants. This year, kid-centric attractions include live music from kindie rocker Mr. G; a Columbia University Lion Dance; seasonal craft stations; strolling circus performers; Big Apple Circus clown Joel Jeske in his solo show Jack Frost: The Original Freezemeister; and cool (literally!) ice sculptures by the Okamoto Studio. Visit the website for a complete schedule of events. Plan your night out in advance, as it's always mobbed. FREE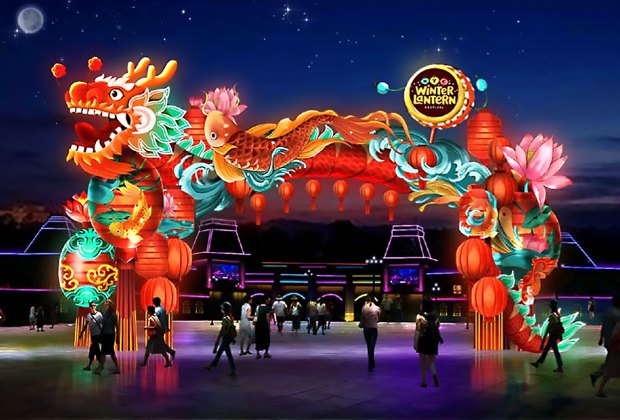 This holiday season, the first ever NYC Winter Lantern Festival is coming to Staten Island. Photo courtesy of the NYC Winter Lantern Festival
8. NYC Winter Lantern Festival —Snug Harbor, Staten Island
Wednesday, November 28, 2018–Sunday, January 6, 2019
Seven acres of Snug Harbor Cultural Center and Botanical Garden are lit up by 40 LED installations that stretch up to 30 feet tall. The lanterns are accompanied by live performances of traditional Chinese dances and art, and a variety of holiday vendors, to create a magical and unique holiday season experience.
9. 21st Annual Central Park Tree Lighting — Harlem
Thursday, November 29, 2018
Sure, that midtown tree by skating rink is big…but it doesn't float! Central Park ups the ante with a flotilla of lit trees drifting gloriously across the Harlem Meer, at an evening celebration of the season that includes the inevitable meet-and-greet with Santa, ice carving, caroling, and hot chocolate cheer. FREE
10. Chanukah on Ice — Central Park
Monday, December 3, 2018
Live music, kosher food, and a giant, hand-carved ice menorah. What's not to love? This annual celebration on Wollman Rink is a prime example of a holiday season event you need to sign up for ASAP, as it always sells out.
11. Winter Family Fair— Murray Hill
Sunday, December 9
Enjoy an old-fashioned celebration at the Morgan's Victorian era-style holiday fete for families in conjunction with its annual display of Charles Dickens' original A Christmas Carol manuscript. Meet Scrooge, Bob Cratchit, the famous ghosts, and the author himself as portrayed by members of the Grand Falloons troupe. The afternoon closes with a festive concert of Christmas carols. Free with museum admission.
12. Make Music New York: Winter Solstice Procession — Citywide
Friday, December 21
Celebrate the winter solstice and the first day of winter at one of many free, outdoor music-making celebrations. For the eighth consecutive season, Make Music Winter welcomes New Yorkers to sing, play, dance and march their way across the streets, plazas and parks in twelve participatory parades across all five boroughs of the city. Gather family and friends and head out to Columbus Circle, Astor Place, Prospect Heights, and more. There's even a mobile Hallelujah Chorus traveling around town! FREE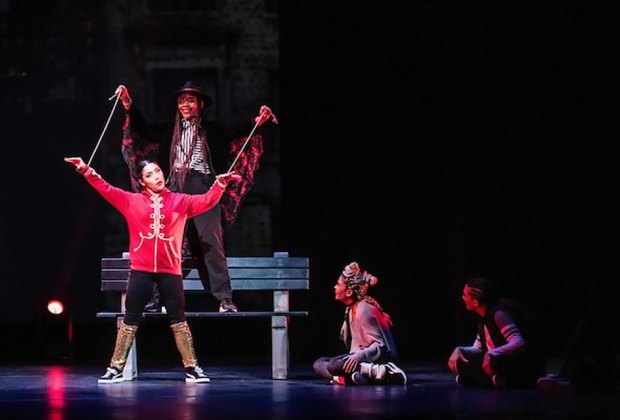 The Hip Hop Nutcracker comes to Brooklyn for one night only.  Photo courtesy of the production
13. The Hip Hop Nutcracker — Flatbush, Brooklyn
Sunday, December 23, 2018
Want to introduce the brood to The Nutcracker but worried they won't stay awake for the big one at Lincoln Center? Well, start dancing like a Sugar Plum Fairy because we've got a great alternative for you. Tchaikovsky's iconic ballet is given a modern urban makeover in this high-energy show at the beautiful Kings Theater. Set on New Year's Eve in Washington Heights, this Nutcracker features a dozen hip-hop dancers, digital scenery, a deejay, and the legendary Kurtis Blow as special MC doing an opening set of old-school classics. What Hamilton did for musicals, this Nutcracker is doing for ballet. (Brooklyn peeps also love BAM's annual performances of the modern Nutcracker The Hard Nut, which runs December 14-23.)
14. December 25 at Eldridge Street— Lower East Side
Monday, December 25
Growing up Jewish in NYC, December 25 always meant Chinese food and a movie for my family. But these days there are other options if you don't celebrate Christmas. While many Jewish cultural institutions are hosting family activities on the holiday, the bash at the Museum at Eldridge Street is the most jam-packed. Enjoy self-guided scavenger hunts, seasonal crafts, a menorah lighting, and a concert of Yiddish music. Afterward, be sure to hit the nearby Katz's Delicatessen to cap off your festivities with pastrami on rye.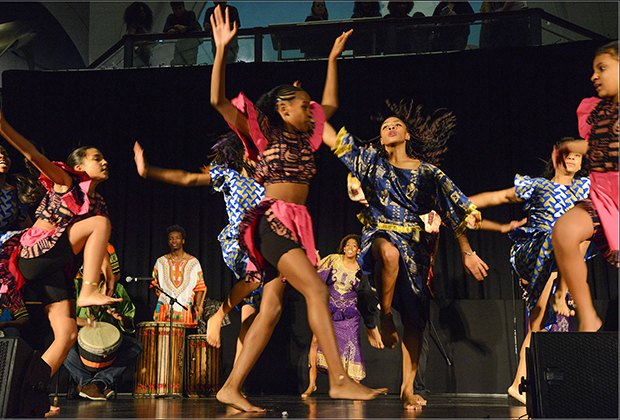 Celebrate Kwanzaa at the American Museum of Natural History. Photo by R. Mickens for AMNH
15. Kwanzaa 2018— Upper West Side
Saturday, December 29
Celebrate the seven guiding principles of Kwanzaa at this vibrant annual festival at the American Museum of Natural History. Family-friendly activities and live music abound, and an international marketplace is stocked with traditional gifts and holiday treats. Free with suggested museum admission.
Written by Raven Snook
A version of this article was first published in November 2015, but it has since been updated. Drew Kristofik contributed additional reporting.