BY: STEPHANIE PETIT and LIZ MCNEIL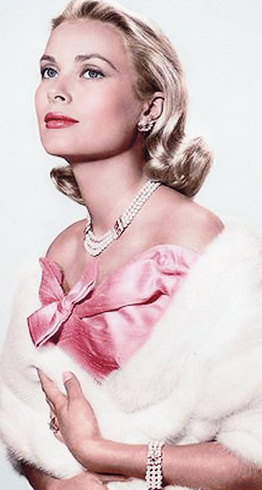 Prince Albert ll of Monaco, Princess Caroline and Princess Stéphanie posed together at a celebration on the eve of what would have been their mother's 88th birthday. The siblings gathered in front of the Theatre Princess Grace as the Princess Grace Foundation-USA celebrated the 35th anniversary of the foundation that honors her legacy.
The event featured a screening of The Country Girl, for which Princess Grace won the Academy Award for Best Actress in 1955.
It's been 35 years since Princess Grace — who wed Prince Rainier of Monaco in 1956 — died tragically after suffering a stroke while driving back to Monaco from the royal family's country home on Sept. 13, 1982. She lost control of the car and drove off of a steep mountainside. When paramedics arrived, she was in critical condition.
She and her then-17-year-old daughter, Stéphanie, were transported to the hospital, where Grace later succumbed to her injuries. Stéphanie suffered a concussion and fractured vertebra.
Prince Albert and his mother, Princess Grace, in 1974
Recalling the tragic day in a recent interview with Graham Bensinger, Albert said he was having breakfast when his father came in to tell him about the crash.
"Basically, he said that we had to go down to the hospital because mom and Stéphanie had an accident," Albert said. "And so I didn't think twice about it and went down with him and [sister] Caroline as well.
He continued, "It was a very shocking moment, you're not quite sure what to think, and of course, you think that things are going to improve and it's not as bad an accident as you thought it was. And so those few hours there were very tense and very emotional."
Grace Kelly's children have gathered together for a rare, new family photo
Albert also spoke out about Stéphanie's recovery and how she came to terms with her mother's death.
"It took a very long time for her to recover from this, and it was a very painful recollection for her," Albert said. "It took a number of years for her to come to terms with that — the pain of being in that car with our mother and not being able to pull her out or to have a different outcome.
He added, "It was a traumatic experience and would be for everybody."
As for their father, "He was deeply affected and he wasn't quite the same man as he was before the accident."
 Princess Grace introduces Prince Albert, with her husband and eldest daughter Caroline
Stephane Cardinale
Prince Albert also recently gushed to PEOPLE of his other sister, Princess Caroline, calling her "quite a remarkable woman."
"What's she's done over the years, helping Monaco in various ways, on the cultural and charitable sides — she's always there. She's often the first person on board."